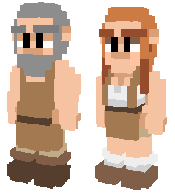 The blacksmith is responsible for making stronger tools, weapons, and armor for your settlers. They will work at the Stone Forge, Stone Anvil and Workbench.
Low level Blacksmiths have very few crafting recipes and can take a long time to train up to be useful to your settlement. This is only compounded by Miners having to level up to mine the Ores your Blacksmith will need to craft.
A settlement can be significantly hampered be not having a decent Blacksmith when you are unable to craft unbreakable metal tools as well as better Weapons and Armor.
Blacksmith can be levelled up in beta 1.71 by simply having them build minecarts and then deconstructing them. Because deconstructing objects gives a full refund on resources a blacksmith could theoretically reach level 20 (maximum level) needing only two Timber to endlessly build and rebuild minecarts.
Processed Materials
Edit
Item
Level
Recipe
Creates
Requires
Mass
Coin
4
8 Copper Ore
2
Forge
0.1
Coin
6
4 Silver Ore
4
Forge
0.1
Coin
8
1 Gold Ore
4
Forge
0.1
Standard Ingot
1
2 Copper Ore
1
Forge
1.25
Standard Ingot
3
2 Scap Metal
1
Forge
1.25
Solid Ingot
6
2 Iron Ore
1
Forge
1.25
Solid Ingot
7
1 Tin Ore


1 Standard Ingot

1
Forge
1.25
Strong Ingot
13
1 Coal


1 Solid Ingot

1
Forge
1.25
Strong Ingot
16
2 Mythril Ore
1
Forge
1.25
Chain
8
2 Standard Ingot
1
Forge


Workbench

1
Hand Tools
Edit
Item
Level
Recipe
Requires
Mass
Effect
Knife
3
1 Raw Wood


1 Standard Ingot

Forge


Anvil

2
Sharp Knife
9
1 Raw Wood


1 Solid Ingot

Forge


Anvil

1.2
6% Bonus Resources
Shears
4
3 Standard Ingot
Forge


Workbench

2
Sharp Shears
10
3 Solid Ingot
Forge


Workbench

1.2
6% Bonus Resources
Solid Tongs
6
1 Raw Wood


3 Standard Ingot

Forge


Anvil

2
Strong Tongs
10
1 Raw Wood


3 Solid Ingot

Forge


Anvil

1.2
Solid Hammer
6
1 Raw Wood


3 Standard Ingot

Forge


Anvil

2
Strong Hammer
10
1 Raw Wood


3 Solid Ingot

Forge


Anvil

1.2
Solid Pick
6
1 Raw Wood


4 Standard Ingot

Forge


Anvil

2
4% Bonus Resources
Strong Pick
10
1 Raw Wood


4 Solid Ingot

Forge


Anvil

1.2
8% Bonus Resources
Solid Axe
6
2 Raw Wood


2 Standard Ingot

Forge


Anvil

2
4% Bonus Resources
Strong Axe
10
2 Raw Wood


2 Solid Ingot

Forge


Anvil

1.2
8% Bonus Resources
Solid Hoe
6
1 Raw Wood


2 Standard Ingot

Forge


Anvil

2
4% Bonus Resources
Strong Hoe
10
1 Raw Wood


2 Solid Ingot

Forge


Anvil

1.2
8% Bonus Resources
Item
Level
Recipe
Requires
Damage
Critical Chance
Mass
Type
Short Sword
5
1 Raw Wood


2 Standard Ingot

Forge


Anvil

15
2%
1.8
Sword
Gladius
8
1 Leather


1 Raw Wood
2 Standard Ingot

Forge


Anvil

18
5%
2
Sword
Spatha
12
1 Leather


4 Solid Ingot

Forge


Anvil

20
10%
2.3
Sword
Broadsword
15
1 Leather


5 Strong Ingot

Forge


Anvil

30
10%
2.5
Sword
Spear
5
2 Raw Wood


1 Standard Ingot

Forge


Anvil

10
6%
3
Spear
Voulge
10
2 Raw Wood


1 Standard Ingot

Forge


Anvil

12
10%
3.5
Spear
Glaive
13
1 Timber


2 Solid Ingot

Forge


Anvil

15
16%
4
Spear
Halberd
18
2 Timber


3 Strong Ingot

Forge


Anvil

22
20%
4
Spear
Item
Level
Recipe
Requires
Effect
Mass
Type
Hauberk
6
2 Leather


3 Solid Ingot

Forge


Anvil

16% Damage Protection
2.5
Chest (Heavy)
Breastplate
13
2 Leather


4 Strong Ingot

Forge


Anvil

22% Damage Protection
2.7
Chest (Heavy)
Cuirass
20
3 Leather


7 Strong Ingot

Forge


Anvil

28% Damage Protection
3
Chest (Heavy)
Spangenhelm
13
2 Cloth


4 Strong Ingot

Forge


Anvil

12% Damage Protection
1
Helmet (Light)
Barbute Helm
7
1 Leather


2 Solid Ingot

Forge


Anvil

16% Damage Protection
1.7
Helmet (Heavy)
Great Helm
14
1 Leather


2 Cloth
4 Strong Ingot

Forge


Anvil

22% Damage Protection
1.9
Helmet (Heavy)
Armet
20
1 Leather


2 Cloth
5 Strong Ingot

Forge


Anvil

28% Damage Protection
2.1
Helmet (Heavy)
Sabatons
8
4 Solid Ingot


3 Leather

Forge


Anvil

8% Damage Protection
1.7
Legs (Heavy)
Cuisses
13
4 Strong Ingot


3 Leather

Forge


Anvil

12% Damage Protection
1.8
Legs (Heavy)
Greaves
20
6 Strong Ingot


3 Leather

Forge


Anvil

16% Damage Protection
1.8
Legs (Heavy)
Kite Shield
9
1 Leather


3 Solid Ingot

Forge


Anvil

10% Block Chance
2.6
Shield
Heater Shield
14
1 Leather


4 Strong Ingot

Forge


Anvil

15% Block Chance
3
Shield
Tower Shield
19
1 Leather


6 Strong Ingot

Forge


Anvil

20% Block Chance
3.5
Shield
Item
Type
Level
Recipe
Requires
Storage
Dungeon Door
Door
12
4 Solid Ingot


6 Timber

Hammer
Wall Sconce
Lighting
5
1 Standard Ingot


1 Torch

Hammer
Armor Chest
Storage/Armor
4
1 Standard Ingot


3 Timber

Hammer
20
Minecart
Storage/Metal
2
3 Timber
Hammer
30
Minecart (Lv2)
Storage/Metal
3
2 Standard Ingot
Hammer
40
Ingot Stack
Storage/Metal
2
2 Standard Ingot
20
Ingot Stack (Lv2)
Storage/Metal
3
4 Standard Ingot
60