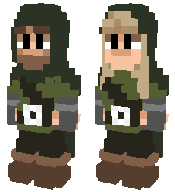 The forager is a profession that scours the map looking for berries, wild grass, wild animals, and corpses to loot. This is a good profession to have if you're finding your people with low food stores. It is important to note that foragers will do nothing until you specify their tasks in the task menu.
At level 1, the forager can use knives to cut wild grass or hunt wild animals. You can also search for berries or corpses for miscellaneous loot. It should be noted that corpses should be selected to loot before a forager will loot the corpse (this can be done by right-clicking on a corpse).
Ad blocker interference detected!
Wikia is a free-to-use site that makes money from advertising. We have a modified experience for viewers using ad blockers

Wikia is not accessible if you've made further modifications. Remove the custom ad blocker rule(s) and the page will load as expected.